Parliament Hill (September 20th, 2010)
AMBASSADOR BAHAH MEETS WITH SAFETY MINISTER, THE HONOURABLE VIC TOEWS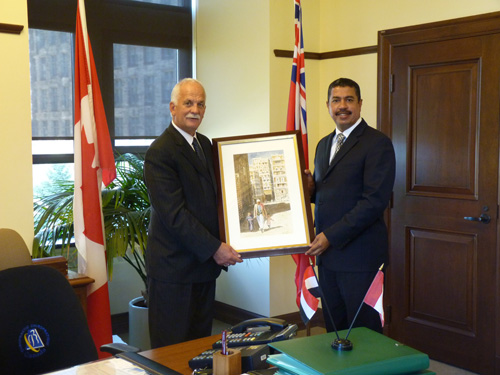 On September 20, 2010, Ambassador Bahah had his first meeting with the new Minister of Public Safety, the Honourable Vic Toews in his Parliament Hill Office.
The meeting with Minister Toews took place just four days prior to the Ministerial Meeting of Friends of Yemen Group which was to take place in New York on September 24th. Ambassador Bahah stressed how important it was to have Canada's support for this meeting plus the upcoming Meeting of the Group in Riyadh scheduled for February 2011. He recognized that Canada's efforts and consultations in preparation for these meetings was a much appreciated contribution.
He discussed how Yemen looks forward to Canada's continued support to strengthen Yemen's unity, security, stability and economic growth. He also explained that Yemen is a country unquestionably committed to implementation of the National Reform Agenda, but in order to realize these goals expeditiously, the support of countries like Canada is imperative.
Ambassador Bahah and Minister Toews discussed a number of global security issues, including unrest in the Horn of Africa and radicalization in general. They spoke of the importance of collaboration and strong relationships, exemplifying the excellent bonds which exist between Canada and Yemen, and the importance of cooperation, support and assistance of stronger nations to act as a catalyst to the few individuals throughout the world who would impede global progress towards peace, freedom, and respect for human rights.
---