Calgary, Alberta (June 6, 2011)
AMBASSADOR ATTENDs NEXEN 2011 YEMEN SCHOLARSHIP GRADUATION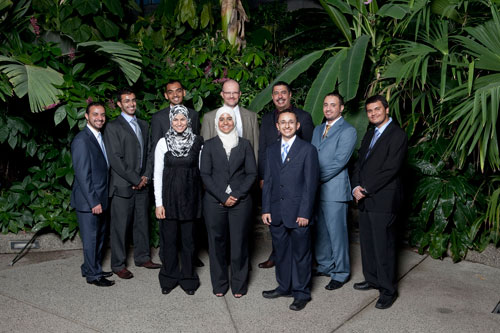 Left to right: Back Row: Eyab Al-Aini, Mohammed Mutahar, Ayoub Ateefa, Marvin Romanow (Pres & CEO Nexen Inc), HE Khaled Bahah (Ambassador of Yemen), Mohammed Aljabobi, Sultan Faqier
Front Row: Elham Al-Ragi, Fatima Baessa, Sameh Al-Eryani

Left to right: Mohammed Mutahar, Fatima Baessa, Ayoub Ateefa, Elham Al-Ragi, Mohamed Aljabobi, Sameh Al-Eryani, Sultan Faqier,Eyab Al-Aini
The graduation of Yemeni students from the Nexen Scholarship Program is one of the highlights of the year, and this year, eight proud new students joined the elite group of graduates to date. It is a festive bestowal of congratulations to the dedication and hard work of the young Yemeni students, but is also a tribute to the enviable relationship between Yemen and Nexen Inc. (www.nexeninc.com).
Once again this year, Ambassador Bahah was delighted to visit Calgary to attend the Convocation and Graduation of Yemeni students from SAIT and the University of Calgary. He was joined by his very good friends, Nexen President and CEO, Marvin Romanow; Andrea Bosnjac, Manager of the Nexen Yemen Scholarship Program; and 130 other guests, including senior Nexen Executive, representatives from the Universities and students.
In his speech to the students, Ambassador Bahah addressed the transformation underway in the Middle-East:
"Just a year ago I had the privilege of speaking with your remarkable predecessors – young and inspired youth whose quest for excellence and hunger for knowledge was very similar to your own. At that time I encouraged them as they embarked on their journey to become the bright new leaders of their country's destiny. Well, what a difference a year makes! Your role has become even more significant – indeed, young people, all over the Middle East, are credited with being responsible for the unimaginable phenomenon, known as The Arab Spring."
He acknowledged that this spirit of change presents unparalleled opportunities for a better future for all and the momentum created by the youth must be sustained through the determined efforts of all Yemenis, in unison, to transform this spirit and will into a prosperous and positive reality for the entire nation.
Personal expressions of hope were mentioned regarding the negotiations with Nexen Inc, to extend the Production Sharing Agreement, due to end at the end of 2011 after twenty years, for another five years. This extension of the PSA would hopefully impact favourably upon the continuation of the Nexen Scholarship Program, for which there are no words that adequately express Yemen's eternal gratitude.
This year's absence was noted, with deep regret, of The Speaker of the Shura Council and Chairman of the Scholarship Steering Committee, HE Abdulaziz Abdul Ghani. Ambassador Bahah extended heartfelt best wishes, on behalf of everyone, for his speedy recovery from his recent unfortunate injuries.
For more information on the Nexen Yemen Scholarship Program, view details in the Embassy Magazine, Issue #1: "Sunrise over Yemen" at www.yemenembassy.ca.
CONGRATULATIONS TO THE 2011 GRADUATES: (Video)
Ayoub Ateefa – Bachelor of Science, Mechanical Engineering
Elham Al-Ragi – Bachelor of Applied Technology Information Systems
Eyab Al-Aini – Bachelor of Science, Mechanical Engineering
Fatima Baessa – Bachelor of Science, Chemical Engineering
Mohammed Aljabobi – Bachelor of Science, Chemical Engineering
Mohammed Mutahar – Bachelor of Science, Civil Engineering
Sameh Al-Eryani – Bachelor of Science, Electrical Engineering
Sultan Faqier – Bachelor of Applied Technology Geographic Information Systems