Calgary, Alberta (June 8 – 10, 2010)
YEMEN PARTICIPATES IN GLOBAL PETROLEUM SHOW
This event comprised three days of world-class exhibitions and events. This year's show ends on a high note, having attracted thousands of attendees and exhibitors and featured significant international delegations. Billed as the world's premier oil and gas show, visitors came from over 100 countries to share ideas and innovations and to participate in educational sessions and conference events.
Entitled, "Uncovering the Game Changers", the three-day global conference focused on the "energy game changers" in the hydrocarbon energy industry, featured more than 100 guest speakers and focused on topics such as economic and environmental sustainability and regulatory issues.
On the evening prior to opening of the GPS, a Welcome Reception was held at which Ambassador Bahah enjoyed a private meeting with Alberta's Minister of Energy, the Honourable Ron Liepert for a general discussion of Canada/Yemen relations.
The following day our Ambassador also attended a very lively business reception hosted by the Canada-Arab Business Council, the Government of Alberta and the Council of Arab League Ambassadors.
The following morning Ambassador Bahah, represented Yemen at the International Ministers' Forum together with energy Ministers from Qatar, Peru and India and Alberta's Minister of International and Intergovernmental Relations, The Honourable Iris Evans, who represented Canada. Dr. Randy Gossen, President of the World Petroleum Council was the outstanding mediator of the event. Each spoke of petroleum activity within their countries and shared their visions on the current and future state of the global energy industry, global supply and demand, and environmental protection.
http://www.globalpetroleumshow.com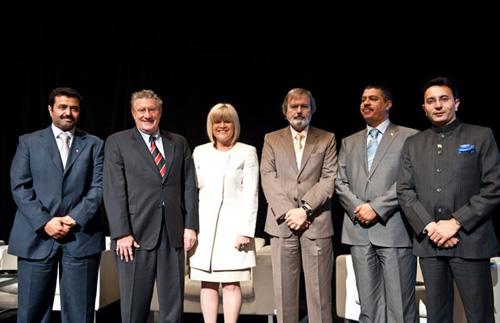 ---