Friday, May 7th, 2010
WATERCAN EMBASSY DINNER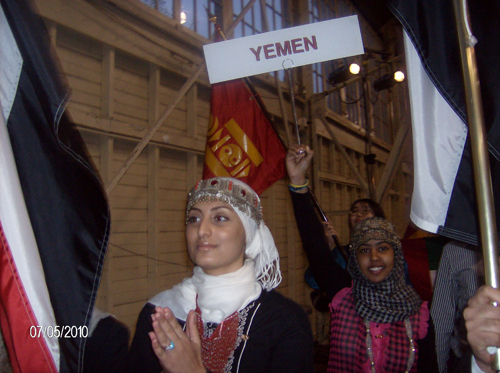 The Embassy was very happy to once again be an active participant in the annual WaterCan Dinner Gala fundraiser. This year marked the 16th anniversary of the "Wellspring of Hope" and the organizations remarkable efforts to raise money in support of clean water projects in Eastern Africa.
The event began at 6:30 pm with a throng of more than 750 visitors making the rounds of the brightly decorated booths which displayed cultural artifacts, jewelry, country images, information and most anticipated of all, a delicious buffet of international cuisine for guests to enjoy.
Yemen's booth is always spectacular, but this year it was particularly wonderful thanks to the marvelous help from several of our fantastic students. Nagat Bahumaid, Hanan Hasan Abdullah Kamil and Ashraf Muharram, joined Embassy staff, all attired in beautiful Yemeni costume and helped to manage our booth, providing valuable information about Yemen, its culture, history and geography and serving the hungry guests Shafoot, chicken, rice and salad. They presented a truly remarkable slide show which sparked the interest of all who visited. It was a dazzling success and the students added significantly to the event proving to be excellent Ambassadors of Yemen and fine examples of the beauty and friendliness of the Yemeni people.
The evening also involved the Parade of Nations, a gala dinner and several auctions of magnificent goods donated by the many Embassies.
---