April 21st-22nd, 2010
Ottawa Economic Mission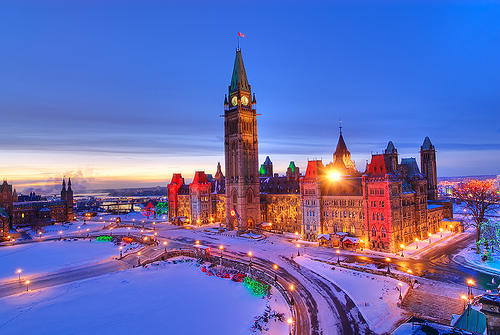 The highly anticipated Ottawa Economic Mission, organized by the Department of Foreign Affairs took place on April 21st and 22nd. This annual presents a unique opportunity for Diplomats to gain an unprecedented access and overview of some of the region's most dynamic and innovative technology and companies. This year's event was attended by our Third Secretary, Mr. Loai Al-Eryani, who reported that the Mission proved to be highly successful and well-attended, delivering an exceptional program that was both enlightening and educational with emphasis on "green" technology.
Canada's Chief Trade Negotiator, Mr. Ken Sundquist gave a very enthusiastic welcome to all participants in this high-tech adventure and noted the absence of Mr. Louis Levesque who was stranded by the low-tech problem of volcanic ash.
The range of products was immense – new applications and services for automobiles, clean energy technology, automation control systems for small hydro power generation from farm waste, satellite-based telematics products, energy conservation building strategies, transportation systems, innovative software products and the latest in medical research. Companies included Alcatel Lucent, www.alcatel-lucent,com; Canmet Energy, www.canmetenergy.nrcan.gc.ca; Powererbase Energy Systems Inc, www.powerbase.com; SkyWave Mobile Communications, www.skywave.com; Minto Group, www.minto.com; NRC-CSTT, www.nrc-cnrc.gc.ca; bitHeads/playbrains, www.bitheads.com, and the Ottawa Hospital Research Institute, www.ohri.ca.
Social events were also an important part of the two-day marathon and included an elegant cocktail reception hosted by Mayor Larry O'Brien at Ottawa City Hall which was also attended by Ambassador Bahah, and two luncheons - the first was hosted by DragonWave Inc, www.dragonwaveinc.com, a high capacity packet microwave provider, and, on the second day OCRI, www.ocri.ca, Ottawa's economic development corporation, hosted a lunch and panel discussion with companies currently in the program.
Events of this kind showcase products and services with enormous international potential, providing diplomats with a rare in-depth preview of the very latest cutting edge technological advances.
---