AMBASSADOR HOSTS "MUSIC TO DINE FOR" AT THE RESIDENCE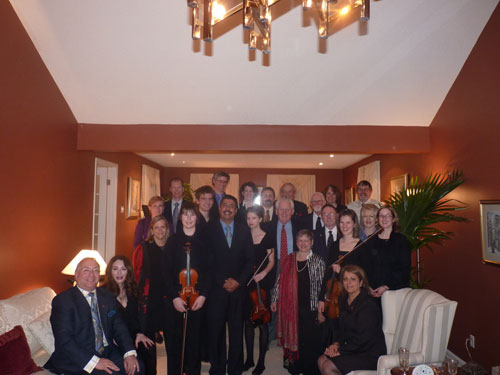 Ottawa, Canada (April 13th, 2010)
As part of a fundraising event for the National Arts Centre Orchestra, Ambassador Bahah and Diplomatic personnel were host to an illustrious group of members of the philanthropic organization, "Friends of the National Arts Centre Orchestra". The Embassy of Yemen was one of several other Embassies participating in the annual "Music to Dine For" event which raises funds, through elegant dinner soirees, for music education programs, benefiting Ottawa's youth.
The guest list included Parliamentarians, journalist Jennifer Campbell, medical practitioners, academics, musicians, pilots, restaurateurs – a diverse group united in a common love of music and the desire to foster and develop the talents of a emerging young instrumentalists. Indeed, during the pre-dinner reception, guests were treated to an exquisite classical violin recital by four remarkable young musicians, Laura Telford (15), Alexandra Telford (13), Laurent Cote (17) and Matthew Mifflin (15). The beautiful harmony of works by Handel, Corelli and Hoffmeister combined with the traditional Yemeni artifacts and decor of the Residence, created a magical multi-cultural ambiance that was utterly hypnotic.
Throughout the reception and during the dinner which consisted of an assortment of delicious Yemeni fare, the guests were particularly enthralled to learn all they could about Yemen - its history, geography, current events and above all, its people. The evening was a resounding success – an elegant symphony of great company, outstanding talent and abundant cultural discovery for all.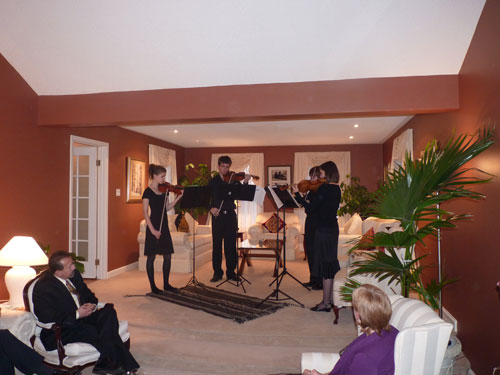 ---