Ottawa - The Palestinian Delegation (December 19, 2013)
AMBASSADOR ATTENDS RECEPTION FOR ARAB IDOL WINNER
Together with his Arab Ambassador colleagues, HE Khaled Bahah gathered at the Palestinian Delegation to honour the 24-year old Palestinian singer, Mohammed Assaf, who shot to stardom recently as winner of Season #2 of the popular show Arab Idol. A congratulatory plaque was presented to Mohammed by the Dean on behalf of the Council of Arab Ambassadors. The following day, the singing sensation demonstrated his talent when he performed publically and was received with tremendous acclaim.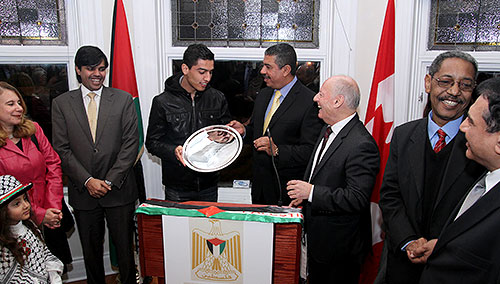 In addition to winning the competition, he was also named Goodwill Ambassador for Peace by the United Nationals Relief and Works Agency for Palestine Refugees (UNRWA), as well as Ambassador of Culture and Arts by the Palestinian Government.
He has garnered international attention for both his magnificent singing and his remarkable ability to unite the Palestinian people and others through his extraordinary voice which surpasses all boundaries.