Ottawa – The Palestinian Delegation (January 9, 2014)
COUNCIL OF ARAB AMBASSADORSí MEETING WITH
FOREIGN AFFAIRS MINISTER THE HON JOHN BAIRD, MP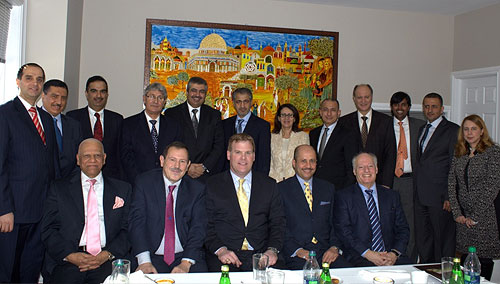 The monthly meeting of the Council of Arab Ambassadors' took place on Thursday, January 9, 2014 at the Palestinian Delegation on the Driveway. Representing Yemen on this occasion was Dr. Ahmed Al-Emad, our Deputy Head of Mission.
Every month, the ambassadors welcome a distinguished Canadian to their midst in order to discuss a broad spectrum of significant and interesting topics, including current affairs, political issues or subjects of historical or cultural interest. This event was particularly exceptional as they were very pleased to welcome John Baird, The Minister of Foreign Affairs, to their meeting.
This provided an outstanding opportunity to exchange ideas and a variety of perspectives in a relaxed and friendly setting, a venue which promotes goodwill, understanding and honesty - the essential prerequisites for friendship, trust and cooperation.