Ottawa (December 4, 2013)
AMBASSADOR BAHAH PRESENTS PLAQUE OF APPRECIATION
TO THE HONOURABLE DR DONALD H OLIVER, QC
On December 4, 2013, at the Embassy, Ambassador Bahah honoured one of Canada's most respected Senators, The Honourable Dr Donald H Oliver, QC. Throughout his illustrious 23-year appointment in the Senate, Dr Oliver, achieved the extraordinary and was a visionary leader in the promotion of cultural and linguistic diversity and pluralism, together with intellectual innovation, communication and change.
He was Speaker Pro-tempore of the Senate since 2010 and more recently President of the 127th Assembly of the International Parliamentary Union and since, 2006, President of the Canadian Group of the IPU. Senator Oliver, a native of Nova Scotia, was also the first black man elected to the Canadian Senate.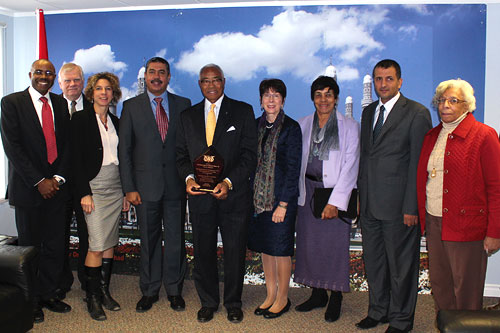 Ambassador Bahah also received close members of the Senator's family who had flown in from Montreal, BC and Bermuda. This included his wife Linda; daughter, Carolyn; brother-in-law Bruce MacLellan, and sisters, Nancy MacKenzie and Shirley James; as well as his nephew Peter James.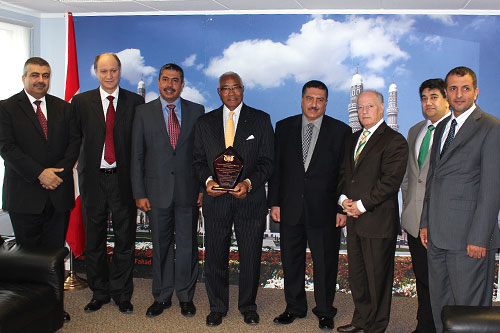 The group was joined by Arab Ambassadors; HE Abdulrahman Al Hussaini of Iraq; HE Basheer Zoubi of Jordan; HE Said Hamad of Palestine; HE Riadh Essid of Tunisia; HE Dr Fathi Mohamed Baja of Libya; and Rupak Chattopadhyay, the President and CEO of the Forum of Federations.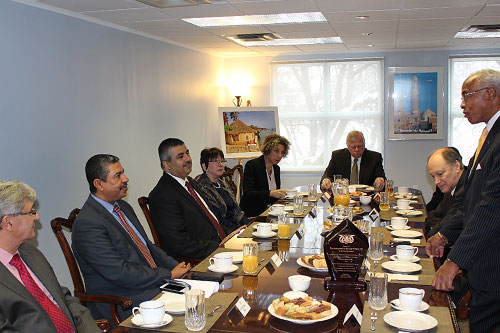 The rosewood plaque presented to the Senator contained the following dedication:
The Honourable Dr Donald H Oliver, QC
"A Man for All Seasons"
In recognition of Your Tireless Efforts in Championing the Cause of Diversity
And Your Visionary Belief in the Power of the Individual to Positively Influence the Many
With Profound Respect and Appreciation for Your 23 Years of Distinguished Service to Canada; Your Compassion that Embraced the World; and Your Friendship that Remains Unforgettable
Khaled Bahah
Ambassador of Yemen
Ottawa, December 2013
---