Museum of Civilization, Gatineau, Quebec (October 9, 2013)
AMBASSADOR ATTENDS THE 17TH ANNUAL ATLANTIC SALMON FALL RUN DINNER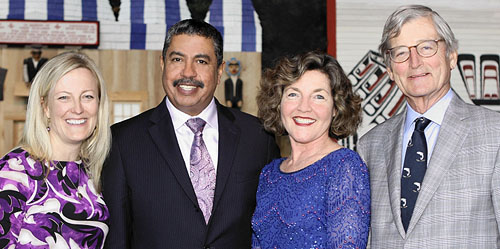 Velma McColl, Ambassador Bahah, Fiona Gilfillan
and Michael Meighen - Photo by Lois Siegel
Earlier in 2013, Ambassador Bahah hosted a dinner for auction winners from the 2012 Fall Run Dinner. Coinciding with the recent release of the romantic comedy "Salmon Fishing in the Yemen", Ambassador Bahah adopted the theme and entitled the occasion, "Salmon Fishing in the Yemen Residence".
This event introduced him to the valuable work of the Atlantic Fishing Federation, an organization dedicated to the conservation, protection and restoration of wild Atlantic salmon and the ecosystems on which their well-being and survival depend.

Volunteers - Photo by Lois Siegel
On October 9, 2013, he was invited by his good friends Donna Jacobs of Diplomat Magazine and Dawson Hovey, former RCMP officer and salmon aficionado, to the 2013 Fall Run Dinner, held at the Museum of Civilization, where hundreds of individuals gathered whose shared love for salmon extends beyond gastronomy.
The Federation consists of a well-organized body which effectively raises money, challenges conventional wisdom; unites and safeguards the future of a species which is viewed as an important part of rural economies along the rivers where it spawns; as well as an important bond between the culture of First Nations and all others who share its heritage; and a species that has drawn an international commitment and determination to see that numbers are restored to historic levels – despite dams, acid rain, bad forestry practices and other abuses of the environment.
Such initiatives have global application, especially in Yemen, where fishing has the potential to become a significant sector of the economy. The more than 2000 km of coast; bordered by four major ocean bodies with numerous islands and bays, offer astonishing developmental promise. We all have much to learn from the Atlantic Salmon Federation about the sustainability and protection of such national assets. http://www.asf.ca.
---