Montreal (September 24 – October 4, 2013)
YEMENI DELEGATION PARTICIPATES IN 38th SESSION OF THE
INTERNATIONAL CIVIL AVIATION ORGANIZATION (ICAO)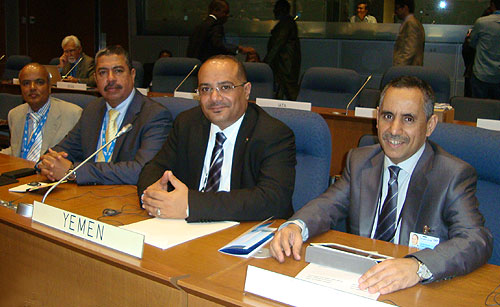 On September 23, 2013, His Excellency Khaled was delighted to receive in Montreal, a delegation from Yemen's Ministry of Transportation, led by the Minister, Dr. Wead Abdullah Abdulrazzaq Badhib and Mr. Hamed Ahmed Ahmed Farag, the Chairman of the Aviation Authority in Yemen.
The delegation arrived to attend the 38th Session of the International Civil Aviation Organization (ICAO), which was taking place in Montreal from September 24 – October 4, 2013.
During his speech to the Assembly, the Minister mentioned the remarkable developments witnessed in the civil aviation sector in Yemen, as well as the many improvements that have been established to ensure safety in the sphere of transportation. He also made reference to the difficulties experienced by the citizens of Yemen as a result of the cargo ban to and from Yemen following the unfortunate incident that took place in 2010.
Minister Badhib also presented an overview, from the Yemeni perspective, of the enhanced services of the ICAO.
This meeting was also attended by Ambassador Bahah and Chairman Hamed Farag.
---