Calgary, Alberta (June 9 – June 11, 2013)
AMBASSADOR VISITS CALGARY FOR NEXEN GRADUATION
June, 10, 2013 marked the fifth anniversary of the attendance of Ambassador Bahah at the greatly anticipated Nexen scholarship graduation ceremonies. 2013 also marks the first year of operation of Nexen under Chinese ownership.
The day began with a luncheon at Buchannan's Restaurant in Calgary, hosted by dear friends in the management group of Nexen, including CEO Kevin Reinhart; Pierre Alvarez, VP of Corporate Relations; Alistair Mooney, VP International Exploration and of course, Andrea Bosnjak who, as Manager of Community Investment, administers the student scholarship program and provides the ultimate in guardianship to the students.
Accompanied by Andrea Bosnjak, Ambassador Bahah then headed for the University of Calgary's Olympic Oval for the convocation ceremony.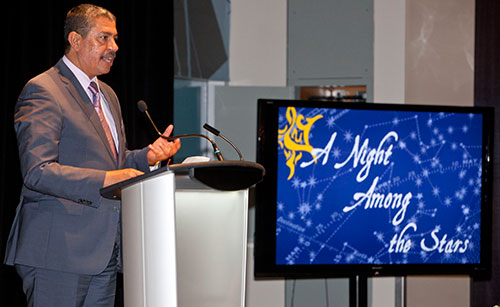 Later that evening, His Excellency was joined by approximately 90 distinguished guests, and senior management of Nexen, including Fan Zhi, the Executive VP of CNOOC Ltd, the new owners of the company; University of Calgary and SAIT representatives, students and graduates. They all congregated at Telus Spark for the Graduation Dinner which was hosted by CEO Kevin Reinhart. Nexen Inc is a "Visionary Donor" of this remarkable science centre, having contributed in excess of 1 million dollars as a sponsor.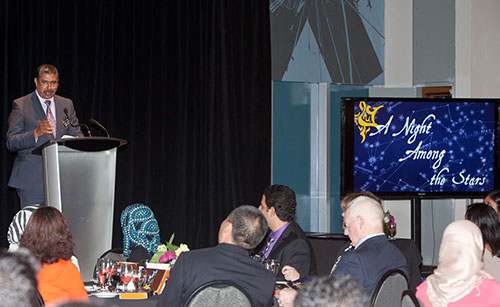 In his speech, Ambassador Bahah expressed his great pride in witnessing the sons and daughters of Yemen achieve their academic goals, permitting them to successfully embark on the journey of a lifetime. He also acknowledged that it was an unexpected honour to be present at the 2013 graduation - he had anticipated that his term in Canada would conclude in 2012. He used this as an example of the variables that one must embrace in life, pointing out that, "the only constant in life is change!"
He then noted that there have also been great changes that have taken place at Nexen over the last few months and to the astonished amusement of old and new management, he launched into Mandarin Chinese, reciting an ancient proverb about change: "Feng zyang zoo, an be an she, yu ren zoo kyang, yu ren zao feng chay!"
This translates loosely into: "When the winds of change blow, some build walls, others build windmills…or perhaps oil wells!"
With reference to ongoing transformation in Yemen, he thanked Canada for its firm support for the National Dialogue, especially for the delegations that it has sent from the Forum of Federations, providing invaluable guidance on federalism – this initiative is scheduled to continue into 2014.
Looking to the past and the future, Ambassador Bahah spoke of the very special relationship between Yemen and Nexen which will always maintain this corporation as Yemen's great friend. He spoke from the heart when said that he looked forward to the day when "there will be a homecoming and restoration once again, of the significant presence of Nexen in Yemen, where it belongs!"
He did point out, however, that in the meantime, Yemenis have making a determined and successful effort to become part of the Alberta landscape and are doing so in impressive numbers, credit for this influx of productive and well educated new Yemeni-Canadians is certainly due largely to the Nexen Scholarship Program.
In closing, Ambassador Bahah, congratulated once again, the accomplishments of these very special young people, who will be tomorrow's architects of change and masters of their own brilliant destinies.
Congratulations to the 2013 Graduates: (Video)
Marwan Mohamed – Bachelor of Science in Engineering (Mechanical Major with Petroleum Minor) – University of Calgary
Lames Al-Wadeai – Bachelor of Computer Information Systems - Mount Royal University
Yousra Alyanaai – Bachelor of Science in Engineering (Electrical) – University of Calgary
Noorin Hasan – Bachelor of Computer Information Systems – Mount Royal Univeristy
Dhekra Al-Basha – Bachelor of Health Sciences (Biomedical Sciences_ - University of Calgary.
The next day, prior to bidding farewell to Calgary, Ambassador Bahah attended the Gas and Oil Expo and Conference, held at Stampede Park. He greatly enjoyed catching up on the latest updates and new technologies within the industry, especially those opportunities that would be relevant to Yemen and keep it high on the list of significant producers.
---