Residence (February 14, 2013)
SALMON FISHING IN THE YEMEN RESIDENCE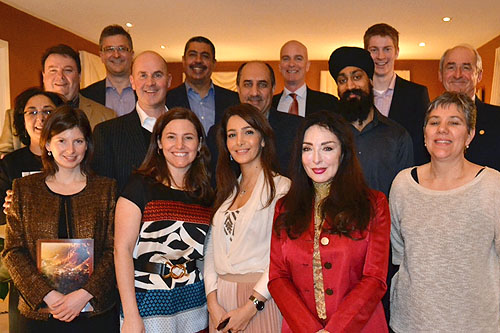 Michael Dunleavy; Randy Marusyk; Rocky Adams; Ambassador Bahah; Tarek Afif; Bob Mimeault; Kamaldeep Singh Sembi; Andrew Phenix; Dawson Hovey
On October 17, 2012, the Atlantic Salmon Federation held its annual Fall Run Dinner and Auction at the Museum of Civilization, as a fundraiser to support a number of salmon conservation programs and initiatives.
Although the sport of salmon fishing is not listed on His Excellency's CV as one of his hobbies, it was perhaps more as a result of the 2012 blockbuster movie "Salmon Fishing in the Yemen" that he was invited by his good friend Donna Jacobs of Diplomat Magazine to attend this large gathering of fishermen from across Canada. The Embassy was also delighted to donate a Dinner at the Residence as an auction item at this function.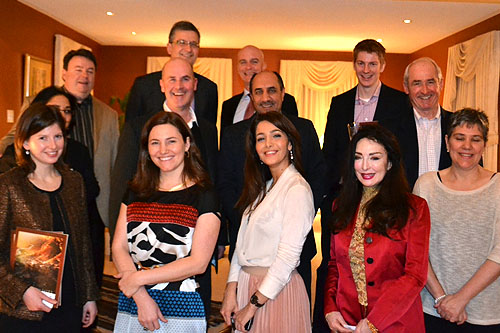 Bela Dunleavy; Hillary Phenix; Marissa Pace;
Asrin Jawaheri, Gabi (Ambassadorís assistant); Kelly Adams.
On February 14, 2013, a group of twelve, from a spectrum of professions, but all united by their passion for salmon fishing, arrived at the Residence to sample a sumptuous assortment of typical Yemeni fare, courtesy of Ambassador Bahah and Madame Rima.
The winner of the dinner prize was Randy Marusyk, an intellectual Property Law specialist of Ottawa-based firm MBM, who was accompanied by his companion and PhD student in cellular and molecular medicine, Hilary Phenix. They were joined by Hilary's brother Andrew and two lawyers from the firm, Asrin Jawaheri, an articling student and Kamaldeep Singh Sembi, an associate.
Rocky and Kelly Adams, owners of Capitol Painting Ltd in North Delta, had flown in from British Columbia for the event. But they were not the only long-distance travellers for dinner - Bob Mimeault, Partner in the Q5 Group specializing in high technology , had just arrived from New York and his guest, Marissa Pace, marketing director for Formula One Management had only hours before, touched down from London, England.
Vice President of BackCheck and former high-ranking RCMP officer, Dawson Hovey, an organizer of the Fall Run Dinner and Auction, was also in attendance, as was Ottawa, corporate law specialist Michael Dunleavy and his wife Bela, an independent psychometrist.

Ambassador Bahah and his wife, Rima were also joined by their friend and fellow Yemeni, Tarek Afif who is Chairman of the Al Afif Cultural Foundation.
The dinner was lively and entertaining, and all guests greatly enjoyed the delicious menu, exquisitely prepared by Madame Rima; while a beautiful cut-glass fish adorned the centre of the table as a tribute to the group's aquatic leisure activities. It was a special and unforgettable evening of innovative conversation and new found acquaintance of an ancient and still mysterious land. As a memento of the evening, guests left with a colourful magazine outlining Yemen's great history, geography, culture and people.
---