Ottawa, Ontario (January 25, 2013)
AMBASSADOR HOSTS YEMENI STUDENTS TO
WINTER GATHERING AT THE RESIDENCE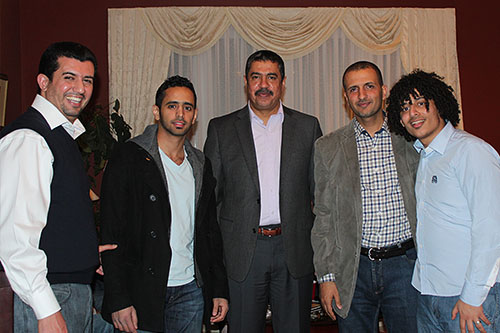 In the midst of an Arctic cold snap, Ambassador Bahah decided to break the winter chill and treat the Yemeni students to a hot Yemeni meal and catch up on their latest news.
Many students braved the frigid weather and joined the Ambassador, Dr Al-Emad, Mr. Bashir and Mr. Louai at the Residence on Friday, January 25, 2013, for an evening of relaxed conversation and delicious Yemeni fare. The sound of chatter and laughter blended into the mellow sounds of beautiful Arab background music.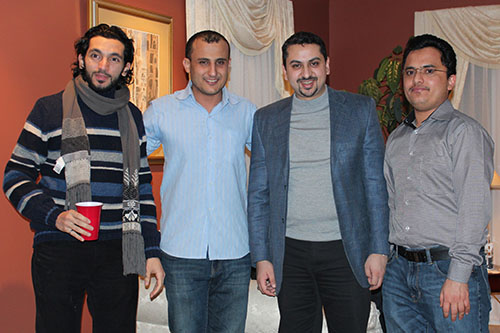 His Excellency and the other Diplomats are always extremely proud and delighted to learn about the academic accomplishments of the students, but the Ambassador also stressed the importance of reaching beyond one's intellectual pursuits and taking advantage of the tremendous opportunities that Canada offers to develop the social skills of sound leadership, steadfast integrity and open-minded tolerance. Knowledge, in order to become a catalyst for profound achievement, must be accompanied by a skilful understanding of the art of social finesse and conscience.
Discussion also turned to the topic of visas. The Ambassador confirmed that this was a subject of high priority for him as well, and he would continue to make sure that it was addressed and given precedence in all of his meetings with Canadian officials as one of the most important items for resolution.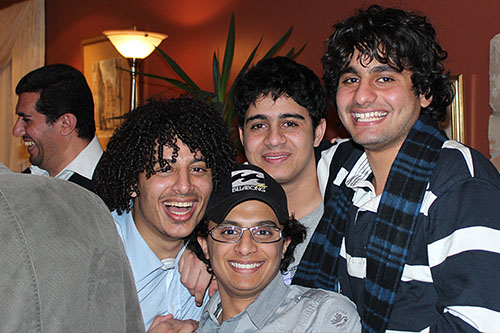 Students and Diplomats also touched on the importance of trying to keep in touch with Yemeni events and community, while continuing to enjoy the Canadian experience and their new friends.
Thus concluded yet another successful evening of discussion, in a friendly and relaxed atmosphere, at the Yemeni Residence. As with all successful events, everyone left looking forward to the next occasion to gather together.
---