Calgary, Alberta
PROFILE OF 2012 DIAMOND JUBILEE MEDAL WINNER MS. ZAHRA AL-HARAZI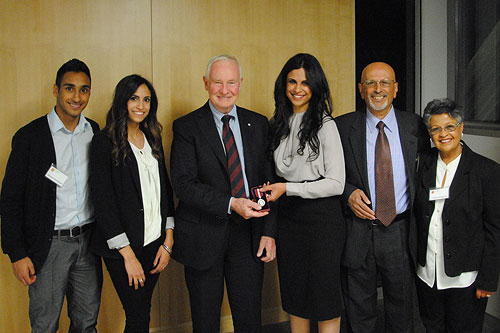 We are proud to recognize another outstanding Yemeni who has achieved the great honour of being a recipient of the prestigious Queen's Diamond Jubilee Medal. This medal is awarded to individuals who have made significant contributions to their province, territory or region within Canada; or, in Zahra's case, an indivdual who has brought credit to Canada. As you will see, Zahra Al-Harazi is a most deserving recipient.
Zahra Al-Harazi was born in Yemen. She immigrated to Canada in 1996 and received her Bachelor of Design in Visual Communications from the Alberta College of Art and Design in Calgary, Alberta.
In 2006 Al-Harazi started Foundry Communications, an internationally-awarded marketing and communications studio known for its strategic approach to design. During her career in the marketing and communications industries, Al-Harazi has been awarded multiple accolades, including Calgary's Top 40 Under 40 (2009), Business in Calgary's "Leader of Tomorrow" award, Canadian Woman Entrepreneur of the Year by Chatelaine (2011), and has been named one of the most powerful women in Canada by the Women's Executive Network. She has also been awarded Diamond Jubilee Medal for making a significant contribution to Canada.
Al-Harazi has given speeches at many prestigious institutions and also been a judge for many national design competitions. In addition, she has been published in the Financial Post writingabout how her experiences and her identity have shaped her into a successful businesswoman. Her advice to aspiring entrepreneurs is illuminating: "Celebrate your individuality. In business and in life, it's a competitive advantage like no other". To learn more about Zahra and Foundry, please visit: www.foundrycommunications.ca.
---