Ottawa, Ontario (November 21, 2012)
DR. TAWAKKOL KARMAN VISITS OTTAWA
On November 21, 2012, the Embassy was very proud and honoured to receive Dr. Tawakkol Karman, the celebrated Yemeni activist and Nobel Peace Prize Winner. She was met by representatives from the Embassy of Yemen, when she arrived in Ottawa from Edmonton, where she had been awarded an Honorary Doctorate in Law from the University of Alberta.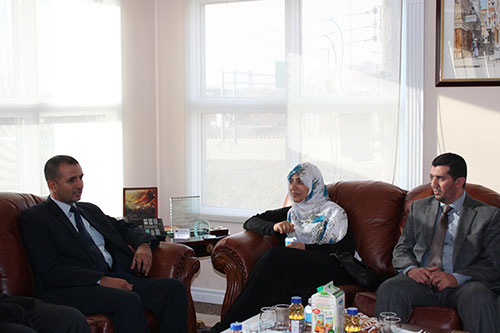 Shortly after her arrival she was welcomed at Ottawa University by Professor David Petrasek, the Director of the Center for International Policy Studies and Ms. Carolyn McAskie, former UN Assistant Secretary General and Senior Fellow of the Graduate School of Public and International Affairs at the University, where she gave a public lecture to a packed house entitled: Women & The Struggle for Peace and Justice in the Arab World. This was followed by an interview with the Ottawa Citizen newspaper.
Later that evening she was the guest of an event presented by the NCCAR, CAIR-CAN, and Human Concern International, for the local Muslim and Arab Community entitled: Inspiring Activism – An Evening with Nobel Peace Laureate Tawakkol Karman, which took place at Centrepointe Theatre.
The next morning, November 22, she was interviewed on CBC Radio by host Robyn Bresnahan, following which she was escorted to the Department of Foreign Affairs and International Trade where she met with Morris Rosenberg, the Canadian Deputy Minister of Foreign Affairs. Later that morning she was the guest at a meeting and reception with several civil society organizations, held at Amnesty International Canada and then attended a luncheon at the Nobel Women's Initiative. During this luncheon, and thanks to the magic of Skype, she was able to meet with sister Nobel Peace Laureate Mairead Maguire.
The afternoon brought her to Parliament Hill to meet Thomas Mulcair, the leader of the NDP - Canada's Opposition Party. During this time, prominent Members of Parliament who work in the area of human rights had the opportunity to also meet with her and discuss matters of mutual interest
Tawokkal Karman's visit to Ottawa ended with a very special farewell reception at the Embassy of the Republic of Yemen. Her visit was a source of inspiration to all who met her and one could not help but be touched by her dignity, courage and determination to propel freedom, human rights and hope as an achievable reality in Yemen and the rest of the world.
---