Winnipeg, Manitoba (July 28,2012 )
INTERNATIONAL HOPE CANADA SHIPS MEDICAL SUPPLIES TO YEMEN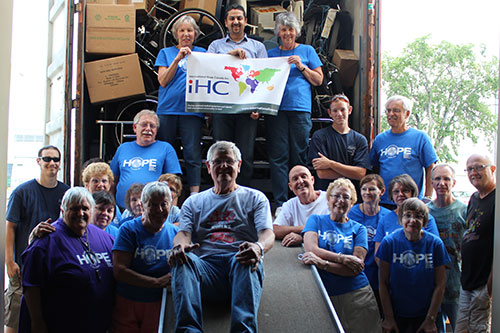 On July 28, Mr. Loay Al Eryani, Second Secretary at the Yemen Embassy in Ottawa, flew to Winnipeg, Manitoba, rolled up his sleeves and together with a large group of cheerful volunteers, loaded up a shipping container with recycled medical equipment and supplies. They did not stop until every square inch was filled. The container was closed and then started its journey to Yemen. For Mr. Loay, it was a life-changing experience; for countless Yemenis it will be a life-saving one.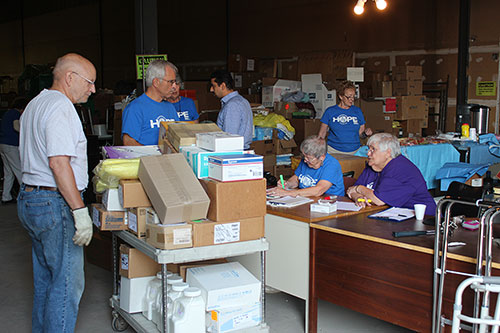 The story of International Hope Canada, (www.internationalhope.ca), is astounding in its simplicity; inspirational in its operation; and nothing short of miraculous in its delivery of medical relief to those suffering unimaginable hardship in forgotten corners of this world. There is no other organization like it – founded on simple common sense but turned into reality by the kind of people we would all wish to be.
The idea was the brain child of Phyllis Reader, who returned to Canada in 1997, from a nursing assignment in Ecuador, horrified by the meagre and unsanitary state of medical supplies and equipment available to healthcare workers in that country. She discovered a surplus of items available from Manitoba hospitals which were collected and transported by friends, Sonia and Merv Michalayshen to Malawi…and thus began a legendary 15-year conveyance of more than 500 tonnes of free medical items to hospitals and clinics around the world.
By 2001, International Hope, and its legion of volunteers, became a charity. Their operation developed beyond their wildest dreams, as goods flooded in. Soon a 3500 sq ft warehouse was donated in order to accommodate their ever-increasing inventory, including hospital beds, specialized equipment, prosthetics and even a full dental suite. Obsolescence became International Hope's best friend. These items, destined for scrap in Canada, were priceless treasures in primitive health care facilities on the other side of the world. The flow of goods continued and their warehouse space increased to 40,000 sq ft, now accommodating wheelchairs, examining tables, operating tables and even complete operating rooms. More than 18 countries have now benefited from these desperately-needed supplies.
None of this would be possible without the help of the astonishing support of the volunteers, many former healthcare workers, who tirelessly give of their time and are united by an unparalleled sense of human kindness, integrity and devotion to the goal of helping those who live in quiet desperation.
The Embassy was able to facilitate this shipment through the extraordinary efforts of Mr. Loay who had connected HOPE with Dr Amer, the Projects Manager of The Medical Charitable Foundation for Health Care Services in Sana'a. During the container packing event, Mr. Loay spoke to the group, thanking them for this remarkable gift to Yemen. He also conveyed how much the organization of this project had moved him personally:
"I will carry this experience with me for a lifetime. Not only have I been personally rewarded by your humanity, but the memory of your kindness will forever define for me the heart and soul of this country, and the generosity of spirit of the remarkable people who live here."
International Hope Canada is the ultimate 21st Century masterpiece – a simple, efficient, low-cost, green machine that also saves lives. This work of art can be replicated in any place that can afford the luxury of obsolescence and is a shining example of how, the resolve of a tiny few can alter the destiny of many. It provides hope and life to the needy but the universal rewards extend also to the benefactors:
"We make a living by what we get, but we make a life by what we give".
(Sir Winston Churchill)
---