Toronto, Mississauga & Hamilton, Ontario (January 2012)
AMBASSADOR VISITS YEMENI COMMUNITIES IN GREATER TORONTO AREA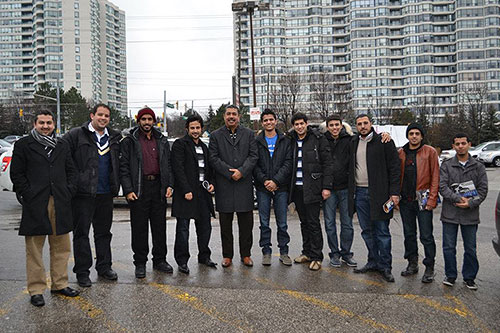 His Excellency always looks forward to meeting with the Yemeni population in Canada and in particular with the young students, as the future truly belongs to them and their views and attitudes are of significant importance. His Excellency was accompanied on this trip by our cultural/commercial officer, Mr. Louai Al Eryani.
Ambassador Bahah and Mr. Loay enjoyed a breakfast meeting with the Yemeni students during which they had an extremely positive exchange regarding the students' successes and their challenges, and in particular, their cautious optimism about the current transition underway in Yemen, which is fuelling inspiration and energy to their hopes for a prosperous future.
Also during this visit to GTA, Ambassador Bahah and Mr. Loay had the opportunity to visit with Dr. Jamal Al Hakemi, an extremely talented and innovative Yemeni engineer who gave them a tour of his chemical laboratory. His lab conducts research and Dr. Al Hakemi's ambitious business operation is thriving. They also had the great pleasure of meeting with a group of fascinating individuals, some worked with Dr. Al Hakemi and others were involved in alternative undertakings. Prior to coming to Canada the members of this group had pursued their education at the same German university and have all become highly successful members of the business community in this dynamic area of Canada. It is extremely encouraging and rewarding to learn first hand of these unique success stories.
The Ambassador and Mr. Loay also greatly enjoyed having dinner with the Yemeni community members - a vibrant collection of people whose numbers are ever-increasing. They were both was delighted to make new friends and see old ones and were pleased to have an opportunity to acquaint the community with all of the Embassy resources and activities in which they can participate and stay in touch through visiting the Embassy Facebook page, website, e-mail or just picking up the telephone. Ambassador Bahah reminded everyone of how important they all are to him and his colleagues and that he is looking forward to the next visit, as well as reminding them that the Embassy door in Ottawa is always wide open to them.
---