Ottawa, Ontario (June 23, 2012)
AMBASSADOR HOSTS EVENT FOR YEMENI STUDENTS
Ambassador Bahah greatly enjoyed the companionship of a lively group of Yemeni students on Saturday evening for what was to be the fifth in a series of student gatherings since his posting began. Adding to the evening's upbeat atmosphere was the presence of our Diplomats, Mr. Bashir Kasim and Mr. Louai Al-Eryani who were delighted to participate in the evening's festivities.
At the time of the last get-together, the world was different – Tunisia's uprising was in its infancy and few people realized that the domino affect would take hold and produce a chain reaction across the region, translating into the toppling of four regimes, including Yemen's.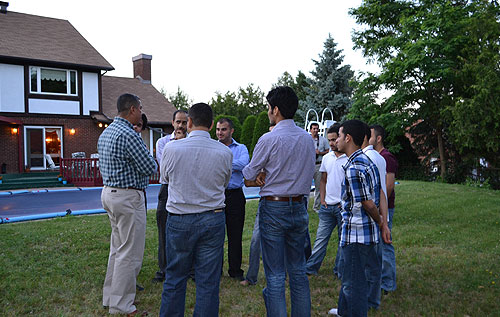 There was much catching up to be done and the first part of the evening was devoted to doing just that and enjoying a tasty buffet meal on a beautiful summer's night. When Yemeni students are together, there is always tremendous enthusiasm for the topics of educational accomplishments, challenges, hopes and dreams, but this time there was a new dimension as a result of the changed landscape in Yemen.
A cautious optimism was apparent among all and later in the evening, after dinner, the guests engaged in an open and frank exchange of ideas and ways in which they could become active members of a new and vibrant Yemen, contributing ideas and efforts to put in place a fair and solid route to a legitimate and egalitarian society. The Ambassador, having recently returned from Calgary where he attended a similar event, was struck by the similarity of viewpoints echoed by both groups.
They did not diminish the reality of the challenges that lie ahead but, certainly for the first time in their lives, there exists now a glimmer of light on the horizon indicating that a new day is achievable. Young people everywhere have been credited with the Arab Spring and certainly the educated youth will play a significant role in the evolution of the region. The Yemeni students have shown themselves to be extremely determined in their undertakings to achieve an excellent education and with these tools they will be undoubtedly be the integral force for change and the leaders and inspiration of tomorrow.
However, even a PhD was not enough to ward off the fierce attack of Canadian mosquitoes, and the outdoor discussion ended with guests retreating to interior safety behind screen doors where another successful evening together concluded.
---