Calgary, Alberta (June 3-5, 2012)
AMBASSADOR VISITS CALGARY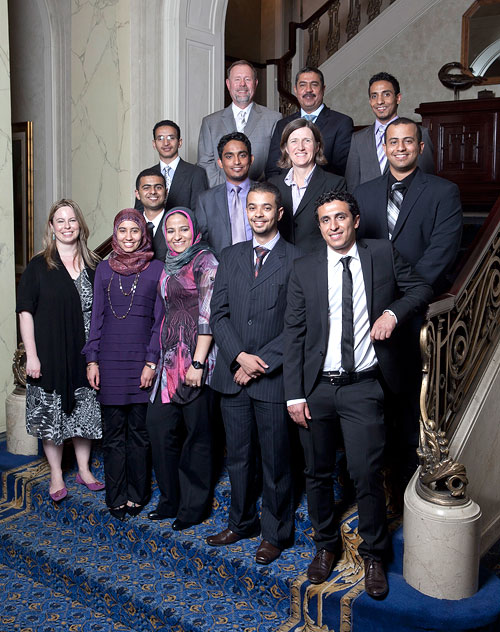 The annual visit to Calgary is an occasion that is eventful and celebratory. Ambassador Bahah arrived in the vibrant city of Calgary on June 3, and headed straight for the University of Calgary where he met with Yemeni community members and students. He enjoyed a relaxed and open discussion during which they reviewed last year's developments and their optimism for the future. It was provided an excellent opportunity for the Ambassador to personally congratulate the successful graduates and express his admiration and great hopes for them.
June 4th was the much anticipated Graduation Day. It began with the Convocation which was held at the University of Calgary. During the course of the event, His Excellency had the opportunity to meet up with the President and Vice Chancellor of the University, Dr. Elizabeth Cannon, who was eager to acknowledge the tremendous achievements of the Yemeni students.
The evening's dinner in honour of the Yemeni graduates was held at the Fairmont Palliser Hotel. It represents the celebration of a significant milestone in life and a source of great pride to all those associated with it. This year the Ambassador paid special tribute to a woman whose devotion to the students and their success is as legendary as the Nexen Scholarship Program itself – Andrea Bosjnak, whose selfless dedication and commitment to the Yemeni students is beyond comparison and has made her a mentor and surrogate mother to countless young Yemenis. For these students, their journey has been a long one and their diplomas represent far more than a significant achievement…they are the keys to a new life.
In his speech to the graduates, Ambassador Bahah called for a moment of silence to remember those who became the innocent casualties of conflict, in Yemen and elsewhere, during a year that has claimed many lives, including Yemen's beloved Speaker of the Shura Council, Abdul Aziz Abdul Ghani - a year that has also changed the face of the region. He then emphasized the positive opportunities of change"
"Today you join the ranks of a very special group of young people who, have changed their lives, and attained a most precious possession… a Canadian education, under the remarkable auspices of the Nexen Scholarship Program. Throughout your lives, you will continue to change and grow and you will also inspire others. You distinguish yourselves as the first graduates who will return home to a new government and a country that has undergone profound change.
In life, as in speeches, fulfilling the expectations of others can be daunting, but we place our trust in you because we KNOW that you will succeed! You already have! Nexen believed in you when they awarded you a scholarship; we believed in you as we monitored your spectacular progress; and Yemen believes that you, as educated and enlightened youth, will propel the nation through the door that was unlocked in 2011. Your job is to open it wide and surge through.
It is encouraging to see increased support from the Gulf countries and members of the International community, indicating the view that change is necessary and foreseeable. We welcome this support but accept that lasting change comes from within – these opportunities are now at hand - it is up to YOU to seize them.

This year I share a bitter-sweet similarity with my fellow Yemenis in the audience – my time here is drawing to a close. The last 3.5 years have flown by, and I too have many memories to pack into my suitcase – so many that I may have to pay a luggage penalty! My history with Nexen is very special – this is where my career began! My working relationship with this extraordinary company has crossed over into my other careers, as Minister of Oil and Ambassador to Canada. Being here is like coming home and it is my fondest wish to continue this important relationship upon my return to Yemen.
So my closing words to you are to seize each day as though it were your last; grasp life with your heart, mind and soul; and believe that anything is possible if you have the will to prevail."
Congratulations to the 2012 Graduates: (Video)
Wail Hubaishi – B.Sc – Mechanical Engineering
Wael Nasser – B.A – Economics (Concentration in Applied Energy Economics
Ali Obad – B.Sc – Mechanical Engineering
Omar Al-Emrani – B.Sc – Geomatics Engineering
Muhammed Al-Kustaban – B.Sc. – Civil Engineering (Minor in Structural Engineering)
Marwa Daer – B.Sc. – Civil Engineering
Bushra Muharram – B.Sc. Electrical Engineering (Biometrical Specialization)
Ahmed Al Hakime – B. Sc. – Chemical Engineering
Salah Al-Siani – B.Sc. – Chemical Engineering (Minor in Petroleum Engineering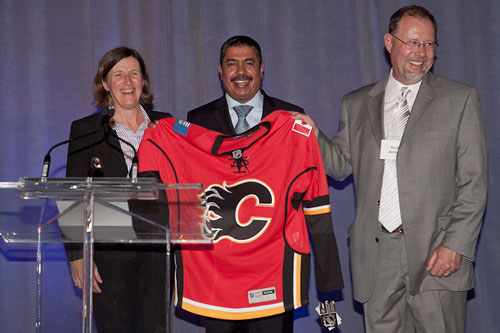 Ambassador Bahah is presented with Calgary Flames Jersey from Nexen Inc. by Catherine Hughes Executive Vice President and Rick Jensen, Vice President
During the course of the evening Ambassador Bahah was absolutely thrilled to receive Calgary Flames Jersey #12. He sincerely hoped that this great honour was not accompanied by an obligation to actually play for the team, and was relieved to hear that Player #12, Jarome Iginla was not retiring!
His visit concluded the next day, June 5, following a most enjoyable meeting with His Worship Mayor Naheed Nenshi of Calgary. They shared their views on the evolution of Calgary over the last 13 years – Ambassador Bahah first visited the city in 1999 and they agreed that the changes have been significant and positive. They also discussed the ever expanding numbers of Yemeni community members who choose to settle in this dynamic city as well as the many students from Yemen who visit in order to achieve an excellent education. The Mayor supports the view that Calgary's rich multi-cultural diversity has significantly contributed to its thriving economic development.
---