Saint Johnís, Newfoundland (April 23-26, 2012)
AMBASSADOR ATTENDS ECONOMIC MISSION IN NEWFOUNDLAND & LABRADOR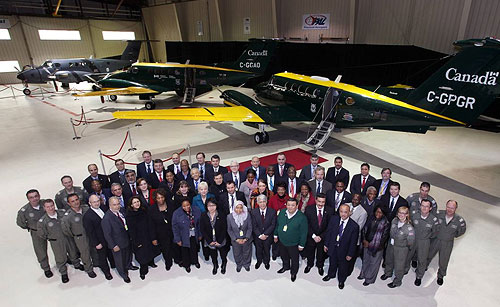 On April 23, 2012, Ambassador Khaled Bahah, together with almost fifty diplomatic colleagues, headed eastward to Saint John's, Newfoundland & Labrador, for a first visit to this unique province. It is a place often referred to as one of the friendliest locations on earth.
It is Canada's youngest Province, having joined in 1949, but its history spans centuries. In 1497, the Italian-born explorer John Cabot arrived and he was followed by an influx of European fishermen in 1610, from Portugal, Spain, France and England. The sea has always been a mainstay of the economy but now it has added marine and ocean technologies and research; along with information and communication technologies; environmental controls; aerospace technologies and research and the booming energy sector.
The official program began on the morning of Tuesday, April 24, with a breakfast presentation of the overview and highlights of the Department of Natural Resources (www.nr.gov.nl.ca). This was followed by tours of Provincial Aerospace (www.provincialaerospace.com); and then the set for The Republic of Doyle, the hilarious TV series set in Saint John's (www.cbc.ca/republicofdoyle) . Lunch was served at the Marine Institute, at the conclusion of which, a tour of the institute took place (www.mi.mun.ca).
In the evening, a reception and dinner was held at "The Rooms" hosted by the Premier and attended by diplomats, leaders of business and members of the Newfoundland & Labrador Government.
The following day a breakfast meeting was held once again at the Delta Hotel with a presentation of the economic overview and highlights, delivered by the Department of Finance (www.fin.gov.nl.ca). The tours for the morning consisted of visits to Lotek Wireless (http://lotek.com/index.htm) and Blue Drop Performance (http://bluedrop.com).
Lunch was hosted by Memorial University and then they enjoyed a tour of the Institute of Ocean Technology and the Memorial University Visualization Centre (http://www.nrc-cnrc.gc.ca/eng/ibp.iot.html) and (http://www.mun.ca/research/ocp/creait/cslv/landmark-visualization.php).
The Economic Mission came to an end following a lovely afternoon reception hosted by the Lieutenant Governor John Crosbie , who once visited Yemen, at Government House (www.govhouse.nl.ca).
We greatly appreciated the remarkable efforts of our kind guardians from the Office of Protocol, Deputy Chief Isabelle Martin, Deputy Director Karim Mattalah and Outreach Coordinator Michelle D'Aoust, whose wonderful stewardship, combined with those of Newfoundland's Director of Protocol and Corporate Affairs, Jennifer Crummey, provided us with ample opportunity to discover the flavour of a unique province. We departed with a rich appreciation of yet another facet of Canada's diverse personality, bidding farewell to a blend of old world charm and 21st century innovation; a landscape of rugged beauty and icebergs; and a warm population who have a winning formula for hard work, prosperity and their own unique brand of humour and fun.
---