September 29th, 2009
QUEEN OF SHEBA ON PARLIAMENT HILL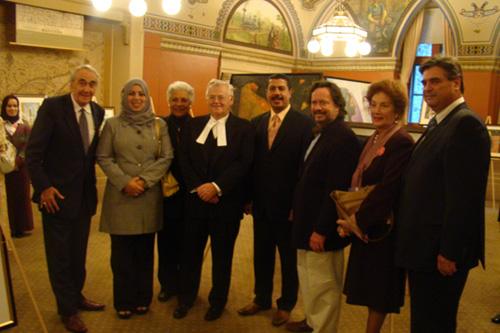 Click here to view more Photos about this Event

As a preview to the upcoming October 14th, Art exhibition and Book Launch, entitled "Beneath the Veil of the Queen of Sheba", the Embassy presented an exclusive showing of the works of Yemeni artist Mazher Nizar to Parliamentarians and Staff on September 29th, 2009.
The stellar event was made possible under the auspices of Senator Marcel Prud'homme and Senator Dennis Dawson and took place in Room 256S. in Centre Block on Parliament Hill. This very breathtaking room is famous for its spectacular painted ceilings depicting Canadian cultural motifs, which provided a magnificent frame surrounding Nizar's magical renditions of Yemen's iconic monarch, The Queen of Sheba. This striking visual blend of two distinct cultures bestowed to the many illustrious guests, a fitting artistic testament to the very special relationship enjoyed over many years between our two great countries.
Ambassador Bahah was delighted to see so many eminent Members of Parliament and Senators, plus members of their staff in attendance. They all remarked on the beautiful artwork and commented that it lifted their spirits and provided a much-needed respite from turmoil and their presently taxing schedules.
The following guests were among those in attendance:
The Hon Noel Kinsella
The Hon Marcel Prud'homme
Ted Menzies, MP
The Hon Dennis Dawson
Royal Galipeau, MP
Kevin Sorenson, MP
Bernard Patry, MP
The Hon Anne Cools
Dr. Keith Martin, MP
Joyce Murray, MP
Garry Breitkreuz, MP
The Hon David Smith
Anthony Rota, MP
Charlie Angus, MP
The Hon Pierre Claude Nolin
The Hon Lucie Pepin
The Hon Celine Hervieux-Payette
The Hon Ruth Nancy
Carol Freeman, MP
Johanne Deschamps, MP
Niki Ashton, MP
Anthony Rota, MP
Farnaz Farrokhi
Monique Horth (Canadian Museums Assoc)
Dr. John McAvity (Canadian Museums Assoc)
---