Ottawa (October 23rd – 2013)
AMBASSADOR MEETS WITH MINISTER OF FOREIGN AFFAIRS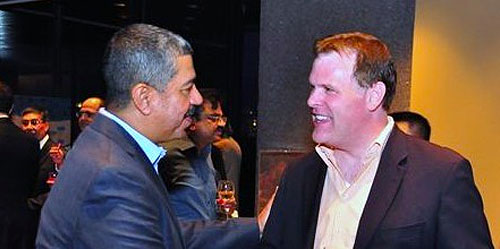 On October 23, 2013, Ambassador Bahah met with the Honourable John Baird in his office at the Department of Foreign Affairs, in order to convey the warm greetings of his counterpart in Yemen, Dr. Abubakr Al Qirbi and provide a summary of recent developments in Yemen. In particular, they discussed the model for change as exemplified by Yemen, which distinguishes itself from other countries in the region, as a predominantly peaceful process. They reviewed the launch of the process under the Gulf Initiative and transfer of power; followed by the inauguration of the National Dialogue Conference in March, 2013, which has had to tackle considerable challenges, many of which have accrued over many years. Ambassador Bahah acknowledged that, given the complexity of these long-standing obstacles, dynamic results will not occur overnight. However, the positive evolution now set in motion, and gaining in momentum, is a very promising indicator of the collective determination of the people to tackle the issues of the past and work cautiously towards their judicious resolution in order to develop an enduring and harmonious future. (http://www.ndc.ye)
His Excellency expressed the deep gratitude of the people and government of Yemen for Canada's support enabling Yemen to benefit from the great wisdom of the Forum of Federations whose contributions were of tremendous benefit to civil society and politicians in promoting the principles of decentralization as a means to achieve collaborative political, social and economic goals. (http://www.forumfed.org)
Their discussion also touched upon the progress made by the international community who maintain the Friends of Yemen Group, which met most recently in New York on September 25, 2013. The group commended Yemen for its political and economic achievements, despite challenging circumstances, and called for continued commitment from government and donors to implement the road map emerging from the National Dialogue.
Other items of significance are the ongoing scope of investments between the two countries. Over the years there have been considerable ties in the areas of oil and gas, aerospace and education. These represent important bonds between the two countries and Yemen considers these to be key areas with significant opportunities for future development.
They also spoke of collaborative solutions that are needed to assist Yemen in its looming humanitarian crisis resulting from over one million refugees flooding into the country due to the crisis in Somalia, which is overburdening Yemen's economy.
In closing, Ambassador Bahah and Minister Baird spoke of the excellent relationship between Canada and Yemen which has developed over many years and that above all; there will continue to be an important, prosperous and collaborative role for our two great nations in the future.
---