November 13th, 2009
The Embassy of Yemen in Canada Honors their Outstanding Students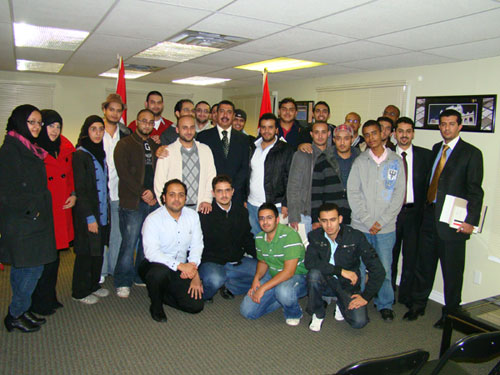 Click here to preview more picture

On Friday, November 13th, His Excellency, Khaled Bahah, Ambassador of the Republic of Yemen to Canada, met with Yemeni students in Ottawa and communicated via the internet with others in Halifax in order to congratulate on the occasion of Eid al-Adha.
In addition to honoring them, the Ambassador stressed the importance of remaining diligent in their studies and striving to overcome the challenges posed as a result of different curriculums and culture.
He also discussed the internal situation in Yemen with his students, reassuring them that Yemen is a strong country and that he is confident that it will emerge from this crisis even stronger. He explained that it is particularly important for the students to remain focused on their education as they are the key to the future development of Yemen.
The Ambassador opened the floor for discussion welcoming their ideas and listening to their thoughts and opinions of the challenges that they face in Canada. He further emphasized that the Embassy staff are happy to respond to their questions and assist them at any time. H.E explained that one of the most important functions of the Embassy is to provide assistance to students in order for them to overcome any difficulties in front of them.
During this meeting they participated in the launch of the new website, the Yemeni Students Union at: www.yemenistudents.ca.
Ambassador Bahah hopes that this will further facilitate the ease of communication between the students and the Embassy.
In conclusion, Ambassador Bahah presented achievement certificates to 33 students who participated in several cultural events in Canada.
---