SANA'A, Nov. 09 (Saba) (09/November/2014)
President swears in new government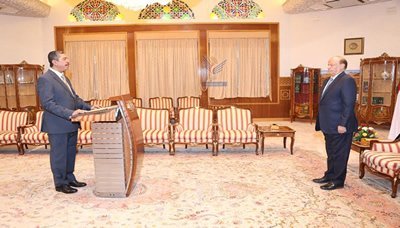 SANA'A, Nov. 09 (Saba) - The newly-appointed members in the cabinet took on Sunday the constitutional oath before President Abd-Rabbu Mansour Hadi at the Presidential Palace.
The new government is chaired by Prime Minister Khaled Bahah and the ministers who were sworn in are:
Eng. Abdullah al-Akwa'a, Minister of Electricity,
Eng. Fareed Mujawar, Minister of Agriculture and Irrigation,
Muammar al-Eryani, Minister of Tourism,
Dr. Mohammed al-Sa'adi, Minister of Industry and Trade,
Dr. Abdul-Razzaq al-Ashwal, Minister of Technical Education and Vocational Training,
Dr. Mohammed al-Mikhlafi, Minister of Legal Affairs,
Dr. Mohammed Zemam, Minister of Finance,
Staff Brigadier General Mahmoud al-Subaihy, Minister of Defense,
Staff Brigadier General Jalal al-Rawishan, Minister of Interior,
Eng. Alawi Bafaqeh, Minister for Expatriates Affaires,
Nadia al-Sakaf, Minister of Information,
Abdul Raqib al-Aswadi, Minister of Local Administration,
Eng. Mohammed bin Nabhan, Minister of Oil and Minerals,
Dr. Mohamed al-Maytami, Minister of Planning and International Cooperation,
Eng. Lutfy Ba-Shareef, Minister of Telecommunications and Information Technology,
Prof. Abdul-Lateef al-Hakimi, Minister of Education,
Dr. Riyadh Abdullah, Minister of Public Health and Population,
Ra'afat al-Akhali, Minister of Youth and Sports,
Eng. Wahi Taha Aman, Minister of Public Works and Roads,
Prof. Eizi Shuraim, Minister of Water and Environment,
Eng. Bader Ba-Salma, Minister of Transportation,
Prof. Khalid Ba-Junaid, Minister of Justice,
Fahad Salem Kefayen, Minister of Fisheries Wealth,
Eiz al-Din al-Asbahi, Minister of Human Rights,
Dr. Fuad Omar bin al-Sheikh Abu Baker, Minister of Endowments and Religious Guidance,
Ghaleb Mutlak, Minister of State for the Implementation of National Dialogue outcomes,
Hasan Zaid, Minister of State and Member of the Cabinet and
Dr. Samira Obeid, Minister of State and Member of the Cabinet.
Following the constitutional routine ceremonies, President Hadi presided over the meeting of the new cabinet where he talked about the nature of the stage and its difficulties along with the duties which must be borne by the new government.
Hadi expressed his pleasure for holding the meeting in this critical condition. "Everyone has been waiting the formation of the new government in order to bear its responsibilities in the current situation that is full of challenges,'' the President said, adding that the Yemeni people has absolute confidence and hope in this government.
He said that youth and women gained various positions in the government, because they are the hope of Yemeni people and their vital conscience.
"The new government doesn't represent any party, components or doctrine, however it represents all over the country."
The President urged the cabinet's members to unify their efforts, highly praising the efforts of Prime Minister, Khalid Bahah, has made to form this technocrat government.
Hadi also expressed appreciation to the previous cabinet for the efforts they made during the difficult and complicated circumstances, pointing out that security and economy would be top in the new government's priorities.
Moreover, he underlined the importance of appreciating the sacrifices of Yemenis, their patience and suffering, urging the Ministers do their best to serve the Yemeni people who have endured those troubles.
"We are the servants of this great nation and we must fight corruption," the President said, calling on the new government to be a model of integrity and honesty.
FA Saba
---