Toronto, Ontario (February 22 & 23, 2015)
DR AHMED AL-EMAD ATTENDS MENA ARAB COMMUNITY EVENT AND OFFICIAL MEETINGS WITH ONTARIO GOVERNMENT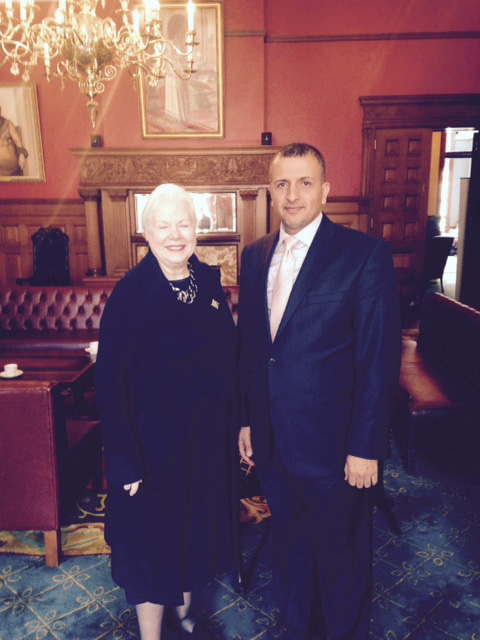 On Sunday, February 22, 2015, Dr Ahmed Al-Emad, together with other Arab Heads of Mission, attended a large gathering and luncheon hosted by the Canada-Arab Chamber of Commerce in Brantford, Ontario.
The event brought together a wide spectrum of community members from several Arab countries, including a large contingent from Yemen. Over a delicious buffet the diverse group entered into lively and interactive discussions, providing Mission Heads with a unique overview of the tremendous opportunities as well as the challenges facing Arab communities in the Toronto region.
The following afternoon, the Ambassadors arrived at the Ontario Legislative Assembly where they were greeted by the Deputy Speaker and then proceeded to the Lieutenant Governor's Suite to have a courtesy call, covering a variety of topics, with the Honourable Elizabeth Dowdeswell.
Following this they were escorted to the Government Caucus Room by Chief and Deputy Chief of Protocol; and were then introduced to Premier Kathleen Wynne, Ministers and Parliamentary Assistants. The Premier delivered introductory remarks, followed by greetings presented by HE Basheer Zoubi of Jordan on behalf of the Heads of Mission. During the meeting, there were presentations by Minister Chan on Ontario's international trade initiatives; an overview on Ontario's post-secondary sector plus Ontario's research and innovation initiatives by Minister Moridi; a presentation by Personal Assistant Kwinter on Ontario's economic development initiatives and finally a description of Ontario's international relations by Personal Assistant Qaadri.
The Ambassadors were then ushered to the office of the Speaker of the Legislative Assembly, the Honourable Dave Levac where they enjoyed a private meeting prior to their departure back to the Ritz Carleton where later that evening their visit to Toronto concluded with farewell reception hosted by the management and staff of the hotel.
---