New York City, USA (Aug 13, 2014)
FORMER AMBASSADOR OF YEMEN TO CANADA PRESENTS CREDENTIALS AS PERMANENT REPRESENTATIVE TO THE UN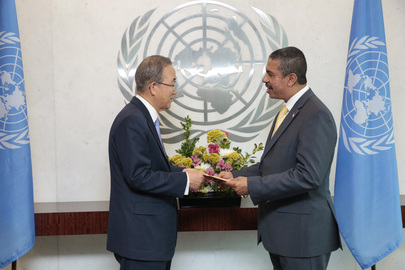 On August 13, 2014, the UN Secretary-General Ban Ki-moon received the credentials of Yemenís former Ambassador to Canada, HE Khaled Bahah, at the UN Headquarters in New York as permanent representative of the Republic of Yemen to the UN.
In welcoming the appointment of Ambassador Bahah, the Secretary-General spoke of the UNís special interest in Yemen and its transition process based on the Gulf Initiative and its Mechanism, together with relevant resolutions of the Security Council.
He commended the Yemeni model as one which demonstrates to the world that peaceful and systematic change through dialogue and compromise is paramount, hailing President Hadi for his steadfast resolve to achieve this by virtue of the successful conclusion of the National Dialogue Conference.
The two men also discussed current developments and remaining challenges in Yemen. Ban Ki-moon appealed to all political parties to cooperate in the implementation of the NDC and work towards building a new Yemen. In his condemnation of terrorist activity he also emphatically denounced individuals and entities involved in the obstruction of the transition process in any way, emphasizing that Resolution 2140 of the Security Council is aimed to target such individuals through stringent measures and sanctions.
Ambassador Bahahís colleagues at the Embassy of Yemen in Ottawa congratulate His Excellency on his new appointment and feel confident that he brings a wealth of experience to fulfill his role with dignity, diligence and boundless energy.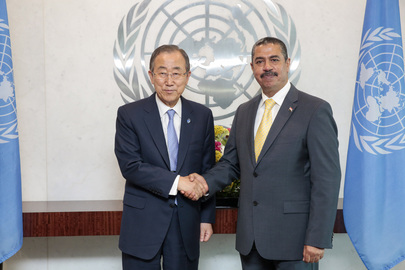 ---