April 2nd, 2009
Meeting with Speaker of the House of Commons,
the Honourable Peter Milliken, MP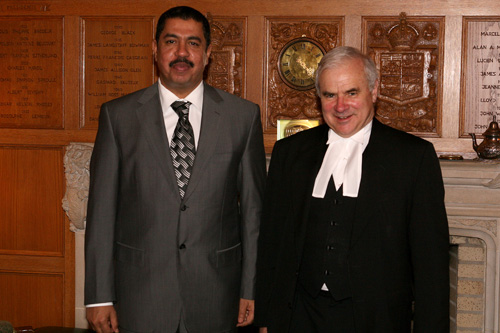 Click here to preview more picture
Ambassador Bahah visited Speaker Milliken in his Parliament Hill Office on April 2nd, 2009. He greatly enjoyed his visit and presented the Speaker with a copy of 'Yemen: The Unknown Arabia', by Tim Mackintosh-Smith, the witty British scholar who briefly visited Yemen in the '80's, and never left.
The Speaker and Ambassador engaged in conversation regarding the chronicle of Yemen's history and determination as it journeys down the road to democracy. His Excellency extended an invitation to the Speaker to visit and see the great progress for himself, as so many of his colleagues have done. In the meantime, Speaker Milliken expressed that he would be very happy to welcome a delegation from Yemen to Canada.
Ambassador Bahah discussed the critical need for a Canadian Embassy in Yemen and was heartened to know that the Speaker understood the urgency and was a supporter of this initiative. Before wrapping up the visit, the two gentlemen discussed the upcoming National Day Celebration and an invitation was extended for the Speaker to attend, which he enthusiastically welcomed.
---